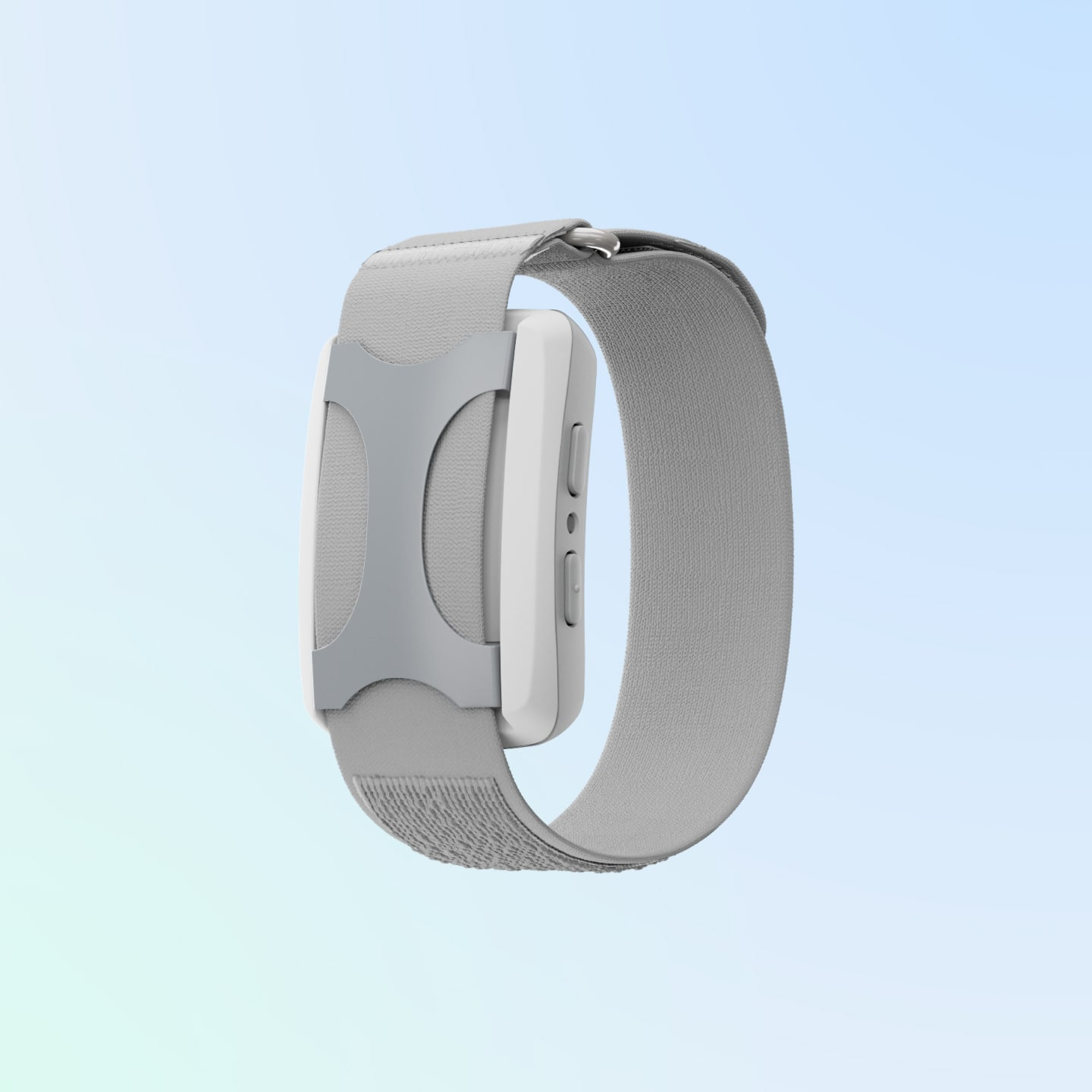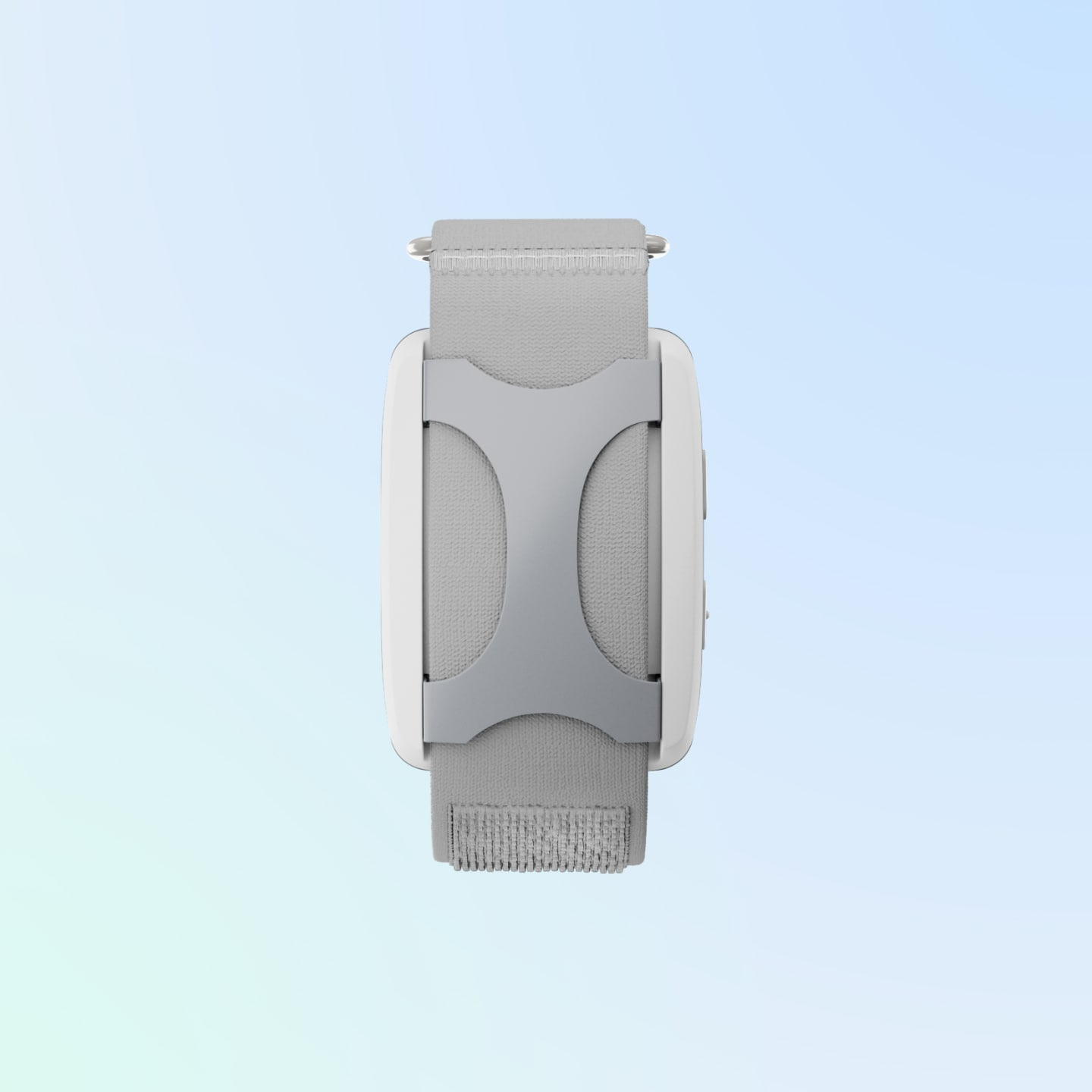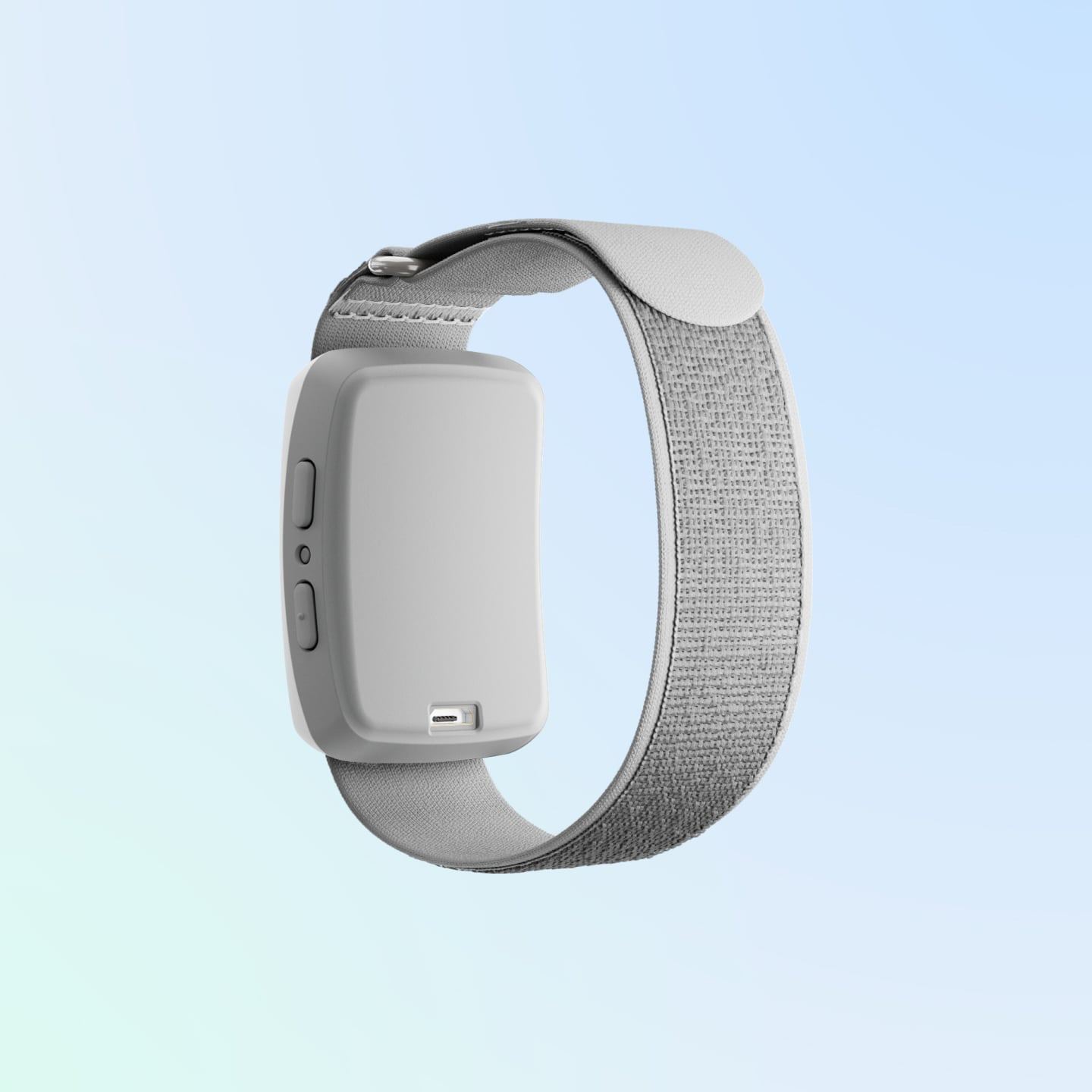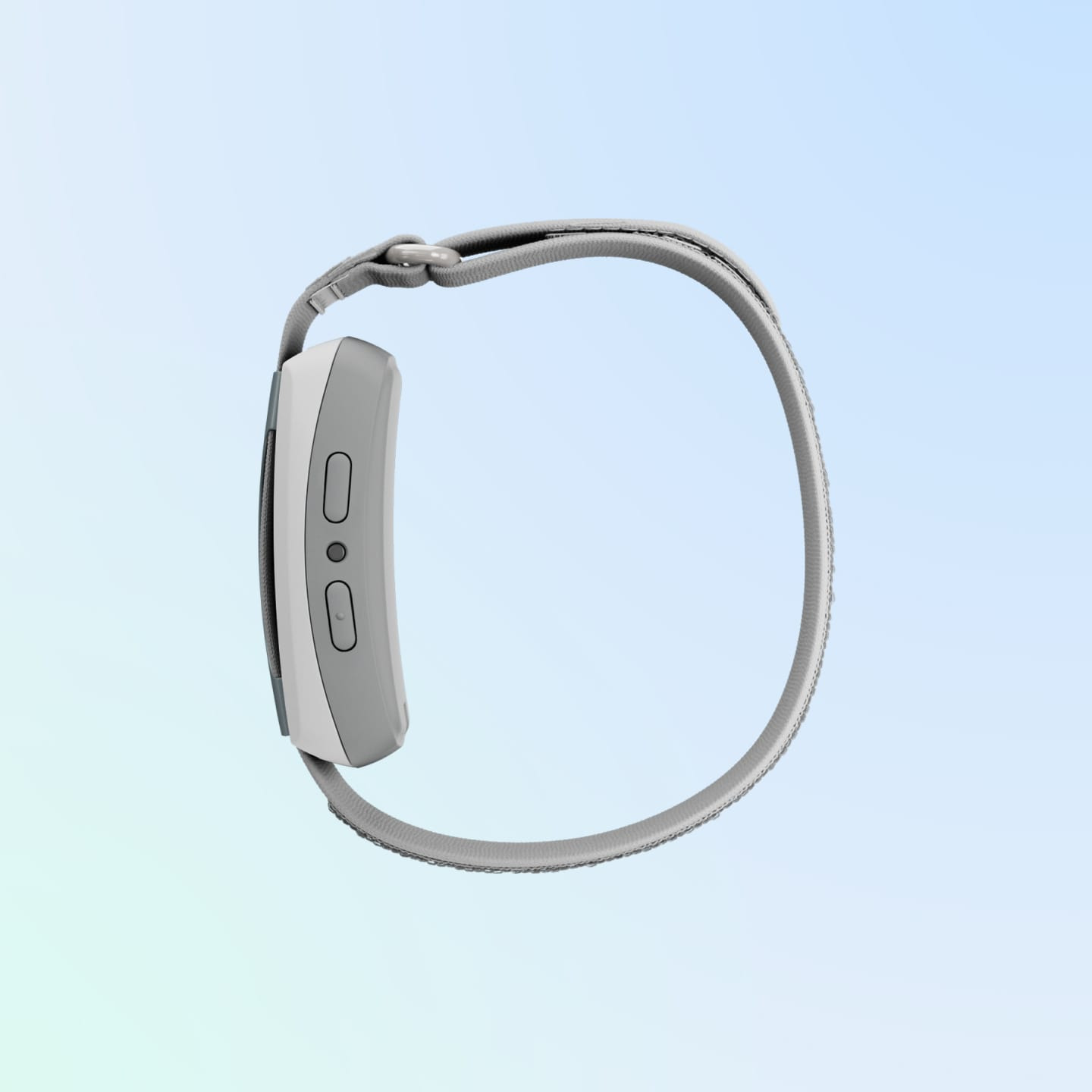 Improve your resilience to stress with the Apollo wearable
Expected to ship within 4 weeks*
Orders will be shipped on a first-come, first-served basis
The Apollo wearable uses safe, non-invasive touch therapy to send silent, soothing vibrations to the body that help you feel safe and in control. Wear the Apollo device on your wrist or ankle, and choose a mode in the Apollo Neuro™ app to help you transition throughout your day. Developed by physicians and neuroscientists, the Apollo wearable is proven to improve heart rate variability (HRV), a key biometric of stress resilience.
Apollo wearable
Access to the Apollo Neuro app (iOS and Android)
One medium (10.5" x 1") and one large band (13" x 1"), which fit most adult ankles and wrists. Small bands (9.5" x 1") available separately.
Micro-USB charging cord
6-8 hours of continuous use
Medium and large bands included for adult wrists and ankles. Bands are made with a comfortable and durable neoprene material with polyester overlays.
Bluetooth BLE 5.0
Airplane mode
1-year warranty
Assembled in the USA
Haptics by Lofelt
Note: you will need an Apollo device to access the mobile app
60 day money back guarantee
If you're not happy with your purchase for any reason, return it within 60 days from the date of delivery.
FAQs
The Apollo wearable rebalances and strengthens your nervous system to become more resilient to stress. Regular usage of the Apollo wearable can help you hit your health goals and tap into a healthier, happier version of you. Calm down from a highly stressed state, sleep more deeply, channel meaningful focus, be present when it matters most, improve your meditation practice, and get a dose of extra energy when you need it.
Your Apollo wearable sends silent, soothing soundwaves that tell your body that you're safe and in control. Your body relaxes, and you're able to focus, sleep, and make decisions based on logic rather than fear.
You can use the Apollo wearable any time of day or night, discreetly and comfortably. Use the Scheduling feature in the Apollo app to select specific modes to play automatically throughout the day for an even more seamless experience.
Developed by physicians and neuroscientists, the modes use vibration patterns that are designed to facilitate natural states of calm, clarity, focus, and relaxation. Unlike typical electronic devices that vibrate like a cell phone or massager, the Apollo wearable vibrations are nuanced programs that feel subtle and natural to the body.
Adjust the mode intensity based on the environment — just like how you listen to music at a lower volume when you're alone in a quiet place versus on a plane with an engine roaring. The goal is to just barely notice the vibrations so that they fade into the background.
The modes are like silent soundtracks composed for your body that influence the way you feel. They are experienced as gentle waves of vibration on the skin that come and go, and patterns differ in rhythm, depending on the goal-based mode. You'll feel a gentle soothing sensation for calming and sleep programs and a more energetic sensation for social and focus programs.
The Apollo wearable improves your resilience to stress through novel touch therapy, working in tandem with the Apollo Neuro mobile app. When we are feeling stressed, the sympathetic (fight-or-flight) branch of our nervous system is activated. That stress response leaves us feeling tired, distracted, overwhelmed, and makes it difficult to sleep. It works by signaling safety to the body through your sense of touch, restoring balance to the nervous system.
To use the Apollo wearable, wear the device on your ankle or wrist, or wherever you like by clipping it to your clothing. Select your mode in the app, such as Sleep and Renew or Clear and Focused, and Apollo will deliver gentle vibrations that help you achieve your goal and transition through your day in a calmer, more balanced state.
The Apollo wearable uses haptics by Lofelt to deliver smooth and gentle vibrations.
The Apollo wearable is safe and non-invasive, and has no significant side effects or negative reactions from routine use in adults and children alike. It can be used as a complement to enhance the effects of many other stress relief practices, therapeutics, and medications without harmful interactions.
Yes. Through the Scheduling feature, you can create a customized schedule that automatically plays throughout the day.
Find out more about the science behind the Apollo wearable and summary of all current and ongoing research trials on the Apollo Neuro technology.
Several academic institutions, including the University of Pittsburgh, have conducted independent clinical research and trials of the Apollo Neuro technology. We will share these peer-reviewed publications as they release them. Reach out to research@apolloneuro.com to receive updates on research results, science, and publications.
To get started, we recommend using the Apollo wearable for a minimum of 3 hours a day, 5 days a week, during the day and night. You can certainly use it more if you like - the more you use it, the better it works. Explore the different modes that work best for you. Everyone's a little different – feel free to experiment!
Remember – consistency is key. Here's why: when used consistently, it helps to retrain your nervous system so you can manage stress more effectively on your own. Over time, you'll sleep better, have more energy, feel more balanced, and increase your focus.
Though many notice the effects soon after starting a mode, it can take up to 30 days of regular use to realize consistent changes in how you feel.
Rather than tracking your biometrics, the Apollo wearable actively improves your health. As it strengthens and rebalances your autonomic nervous system, your heart rate variability (HRV) improves – which means you're building your resilience to stress. Over time, your body learns to recover from stress more quickly, so you can relax, sleep better, and find deep, meaningful focus.
Many users choose to track their biometrics using other devices and report significant improvements in HRV, sleep scores, resting heart rate, and more after consistent usage. Apollo Neuro integrates with Apple Health and Oura Ring in the settings of your profile in the Apollo Neuro app.
Yes, iOS users can link their Apollo Neuro accounts to Apple Health in the Apollo Neuro app. By using this Apple Health integration, you'll be able to track your Apollo wearable usage as Mindful Minutes to optimize your experience.
Unlike many other stress relief or meditation wearables, you can use it when you sleep - but we recommend wearing it during the day as well. Remember, consistency is key. In order to maximize benefits from the Apollo wearable, including improving sleep, use Apollo at least 3 hours a day, 5 days a week, during the day and night.
The Apollo wearable is currently not subscription-based and the Apollo Neuro app is completely free to use with the initial purchase of your Apollo wearable. We also have a 60-day return policy from the date of delivery and a one-year limited liability warranty at no additional cost. Additionally, there are extended warranties available at checkout.
You have 60 days from the date of delivery to request a full refund, minus shipping if you are unsatisfied with your purchase from Apollo Neuro for any reason. Import and duties fees for non-US orders are not refundable. Apollo Neuro devices have a one-year warranty and offers extended warranties at checkout.
The Apollo system was designed with EMF concerns in mind. The device has an Airplane Mode that you can select to disable the wearable's internal antenna.
When Airplane Mode is off and the app is actively in use, the Apollo wearable emits very low levels of EMF from the Bluetooth connection between the device and app. Once you select an Apollo program and close the app, Bluetooth communication stops until you open the app again. The Apollo wearable waves are sound waves (like music that you can feel and not hear). They are safe for kids, adults, and the elderly. Learn how to put the Apollo wearable in airplane mode.